Join Our Team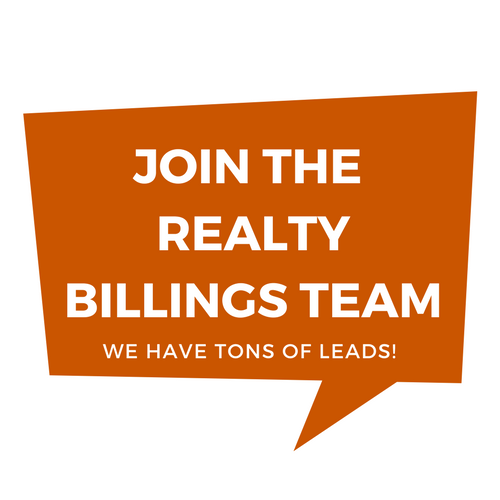 WORK WITH THE BEST!
Are you looking to work with a real estate team that is committed to delivering the highest standard of client service in the real estate industry?
A team that is results-driven and knows—without a doubt—that our past successes don't mean that what we did yesterday is good enough for tomorrow?
If you're tired of the passionless brokerages, completely lacking in imagination, creativity and innovation, consider joining the Realty Billings Team.
Through teamwork, unparalleled industry expertise and our unwavering commitment to client service, Realty Billings breaks the traditional agent business model, emerging as the industry leader in service and innovation in Billings, Montana.
If this culture sounds like something you'd like to be a part of, read on to learn more about what you'll enjoy as a member of the team:
Almost ZERO expenses to you – we take care of EVERYTHING!
High-quality, broker-supplied leads.
A robust marketing engine that is second to none.
Unique technology platform.
Training program — we truly care about your growth.
We are completely vested in helping you achieve your goals.
A powerful online presence offers a distinct competitive advantage of our agents.
What we're looking for
We need a buyer's agent who is:
Customer-service focused.
Passionate about making the home-buying experience seamless for our clients.
An agent who has unlimited patience when dealing with the public.
Someone with an outgoing personality and excellent communication skills.
An ambitious, hard-working agent who thrives in a fast-paced environment.
Committed and self-disciplined.
Not afraid to pick up the phone to follow up with leads.
Excels in quick follow-up.
You MUST be a licensed Montana Realtor.
Reach out to us at [email protected]