Brianne Hillius
Realtor®- Client Care Coordinator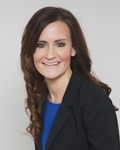 Meet Brianne Hillius
Most businesses have that one person who works diligently and quietly behind the scenes – the unsung hero or heroine who keeps the gears oiled and running smoothly while others get all the glory.
The Realty Billings gear-oiler is Brianne Hillius, Client Care Coordinator and all-around self-discipline-proactive-collaboration and customer-centric Rockstar. 
You may be fortunate to work closely with Brianne when Realty Billings represents you in a real estate transaction, so let's get to know this accomplished real estate whiz kid a bit better.
Brianne has lived in Billings since 2014, but she hails from our neighbor to the east, North Dakota. She comes to the Realty Billings Team after eight years in the banking industry where she honed her brilliant customer service skills.
"There's nothing more critical when dealing with people's money than an acute attention to detail," she explains. "And, it's just as critical in a real estate transaction."
Brianne's official title is Client Care Coordinator for Realty Billings. She's the one who the agents trust implicitly to keep track of their paperwork, to ensure that our various specialists (photographers, locksmiths and others) are scheduled and, if you're selling a home, she'll follow your listing from open to close, keeping everything on schedule.
And, although these are critical duties, we like to think of Brianne as our all-around customer service maven. It's up to her, really, to ensure that your experience with the Realty Billings is perfect – and she excels at the job.
Brianne's "Bucket List" includes getting to do more of the stuff she loves, aside from her work with the Realty Billings Team, that is: traveling, camping, kayaking and hiking "in the beautiful state of Montana."