*HOME FOR SALE!! RB LISTING!!*1825 Scarlet Sage Ln, Laurel, MT 59044
Posted by Amber Uhren on Wednesday, July 12, 2023 at 10:40:43 AM
By Amber Uhren / July 12, 2023
Comment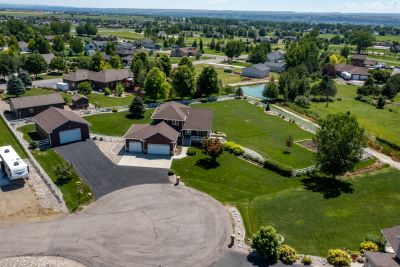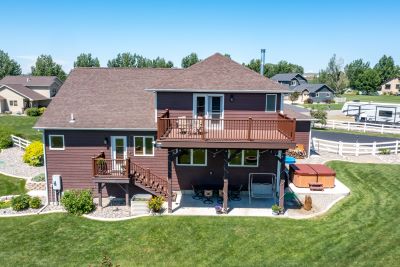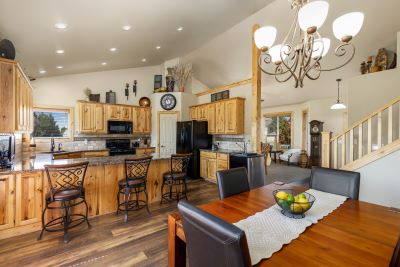 This home located at 1825 Scarlet Sage Ln, Laurel, MT 59044 is nestled in the breathtaking Yellowstone Valley of Montana and proudly stands in the city of Laurel, a thriving industrial and agricultural hub. This charming city is intricately connected to the bustling Billings Metropolitan Area and serves as a crucial east-west terminal division for the iconic Burlington-Northern Railroad. Laurel boasts excellent connectivity with Interstate 90 and local railroads running through its heart. Besides its flourishing industries, the city is also cherished for its enchanting historic shopping district.
Bordering along the picturesque Yellowstone River, Laurel offers an angler's paradise, with the Sundance Lodge Recreation Area as its crown jewel. Here, avid fly fishers can wade into the river's refreshing depths and revel in the tranquility of motor-free waters, while cast fishing enthusiasts find their haven at Riverside Park's scenic banks. And for those seeking the thrill of dual exploration, the thrill of casting lines at the convergence of the mighty Yellowstone and Clarks Fork rivers awaits, all within the enchanting Sundance Lodge Recreation Area.
Nestled along the Yellowstone River, Laurel offers a fishing haven for enthusiasts seeking both adventure and relaxation. The Sundance Lodge Recreation Area serves as the ultimate playground, welcoming wading fly fishers and riverside cast fishing lovers alike. Imagine casting your line, as two iconic rivers converge at your feet, immersing yourself in the serenity of the motorized boat-free zone. Delight in the perfect fusion of sport and nature, creating unforgettable memories in this charming Montana escape.
This mesmerizing natural haven entices outdoor enthusiasts to indulge in thrilling water sports and marvel at the stunning array of wildlife and birds. Embark on exploratory adventures through activities like hiking, mountain biking, and capturing the breathtaking beauty through your lens. Saddle up for equine escapades across designated trails and roads, as you encounter delightful species from the thriving animal kingdom – ducks, pelicans, pheasants, songbirds, and majestic birds of prey such as hawks, owls, and eagles. Keep a keen eye out for elegant deer, sly foxes, and roaming coyotes, as you immerse yourself in this enchanting wilderness.
Take a stroll, enjoy a picnic, or play a game at one of the many fantastic parks in town! You can choose from a wide variety of options, from Veterans Park, Thomson Park, Soccer Field Park, Russell Park, Rotary Park, Riverside Park, Nutting Park, Murray Heights Park, Mayors Park, Lions Family Park, Kiwanis Park, Fireman's park, Emma Murray Park, Cherry Hills Park, Alder Park. With so many lovely outdoor spaces to explore, you're sure to find your perfect match.
Discover the vibrant Laurel Golf Club, an exquisite 18-hole championship oasis for golf enthusiasts. With its pocket-friendly green fees, indulge in a delicious dining experience at the Club's exceptional restaurant offering anything from tantalizing steak sandwiches to refreshing salads and heartwarming homemade soups. Elevate your game with stylish gear from the pro shop or create lasting memories by hosting special events at this versatile establishment. Embrace the ultimate golfing haven at Laurel Golf Club!
Calling all hunting enthusiasts! Laurel is the perfect location, with ample open space and a variety of public and private lands available, you'll have plenty of opportunities to track down your next big game. Just be sure to receive permission before venturing onto any private property. While exploring the untamed wilderness, keep your eyes peeled for local game such as majestic deer, agile antelope, impressive elk, and a variety of game birds.
Riverside Park in Laurel is a truly remarkable experience - boasting both spectacular recreation and an intriguing background. Visitors can take advantage of picnic spots, volleyball pits and camping options as they enjoy the peaceful atmosphere along Yellowstone River. Additionally, stone monuments left from World War II internment camps have been preserved for all to explore; so be sure to take some time exploring these signs which detail America's history with such events during this period of our past.
Venture into the past as you explore the historic site of the penultimate Nez Perce battle against the US Army in 1877. Just a stone's throw away from Yellowstone National Park and a quick 10-mile jaunt north of Laurel, this unspoiled landscape remains remarkably unchanged since the fateful events of September 13th. Wander through interpretive trails etched into the battlefield, sheltered under a pavilion at the highway turn-off. Immerse yourself in the unfolding narrative of the Canyon Creek Battle, as The Friends of Canyon Creek passionately work on developing an interactive walk-through display at the monument. Delve into history and witness the turning point of an era in this significant and captivating site.
Known for its unforgettable 4th of July experience, look no further than Laurel! Thousands gather in this city to witness the grandest, awe-inspiring fireworks show, all thanks to the dedicated efforts of the Laurel Fire Department. Join the crowd and immerse yourself in the dazzling spectacle that sets Montana's night sky ablaze.
Discover the contemporary culinary haven, Carlton Depot, boasting a diverse bar menu featuring draft beer, fine wine, and creative cocktails. Satisfy your taste buds with a versatile food selection, ranging from fresh salads and juicy burgers to delectable coconut shrimp and succulent ribeye entrees.
Feeling famished? Satisfy your cravings with an incredible array of delectable delights from various local hotspots. Grab a quick and hearty meal at Redneck Pizza, perk up with your caffeine fix from City Brew or Heidi's Coffee Cabin. For a Chinese twist, savor the flavors at Dragon Palace. Beer aficionados should head to High Plains Brewing, while The Yogurt Shop and Dickies BBQ cater to all your dessert and smoky grill desires. Fowl Play Sports Bar & Casino and Fat Fender Freddy's elevate the winning combo of entertainment and grub experience, and of course, the trusty fast food joints Taco Bell, McDonald's, Dominos, and Wendy's never cease to hit the spot! You're in for a treat no matter where you choose to dine!
Laurel High School is an educational powerhouse that serves grades 9-12. Tackling Advanced Placement courses, vocational education programs, and dual enrollment courses in conjunction with local colleges, Laurel students have a plethora of academic opportunities to explore. Of course, it's not all work and no play at Laurel High. Sports teams, music and theater programs, and a multitude of clubs and organizations ensure that there's never a dull moment.
Laurel Middle School welcomes students in grades 6-8 to its community offering a diverse range of academic programs and extracurricular activities to students. The school has something for everyone, from language arts and math to science and social studies, as well as a dedicated special education program for those who need extra support. Outside of the classroom, students can participate in a plethora of sports teams, music and theater programs, and clubs and organizations, adding unique colors to their middle school experience.
To inspire young individuals to reach for the stars, Laurel Elementary Schools are buzzing with excitement, creativity, and growth as students take their first steps towards a brighter future.
Wanting more pics and info on this property - Follow the link here - 1825 Scarlet Sage Ln, Laurel, MT 59044.
Call Amber today at 406-670-1942!
.